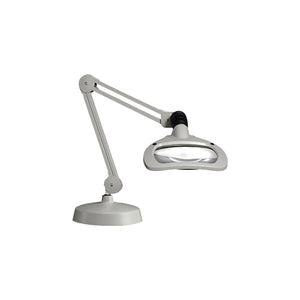 Wave LED Magnifier Lamp with 30" Arm and Weighted Base
Luxo
Item #4927
Looking for pricing?
About Our Pricing
Serving a wide variety of professionals and professional organizations, we work with each of our customers individually to find the most suitable pricing for them. Joining the Optelec Family is quick and easy. Create an account to obtain your best pricing to begin. CREATE ACCOUNT

Already a member? LOGIN
Luxo's newest, and most energy-efficient version of the WAVE LED Magnifier Lamp. Now with two dimmable 6W LED light sources, which allow individual left/right lighting control and an auto shut-off feature to further ensure energy savings.
This lamp has a weighted base. The two dimmable 6-watt LED light sources allow individual left/right lighting control.
Features
Includes auto shut-off feature for energy savings
Lens is made of white crown optical quality glass
Self-balancing shade and hands-free neck design allows the lamp to be secured in any position
Features a fully enclosed neck assembly and 30" heavy-duty internal-spring K-arm